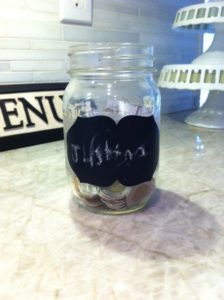 Sometimes it feels like once we've solved one set of problems with the kids, another one pops up.
One of the things we've struggled with is instilling in our kids a sense of gratitude and giving. It's difficult for kids to truly understand how blessed they are when they live in a good middle-class neighbourhood where all their friends are in the same boat. They play sports, go to birthday parties, have birthday parties, get presents, have food on the table, clothes on their backs. We donate and collect gifts for the needy and do extra during the holidays. Their schools do various charity drives throughout the year that they actively participate in. But often that gets forgotten as the year goes on and whining for new Lego (um, when did Lego become so freaking expensive??) or Frozen swag becomes the focus.
So this year we decided to 'adopt' a little girl in Zambia. We were able to see her picture and see exactly how our monthly donation would help her and her family. Because we wanted this to be a family project, we set up a collection jar in the kitchen and we all have to contribute during the month. At the end of the month, the eldest (8YO) will count all the money. We thought that was important because we didn't want this to just be mom and dad adding another expense onto the credit card. We want this little girl to be a part of our daily lives. Her name is on the jar, which sits on our counter.
The kids immediately ran to their piggy banks and filled up the jar and are excited and proud. It's a damn fine way to start the year ;-). Oh and that paper you see in the jar? The 4YO drew her a picture and put it in-I think she thinks we're physically mailing that jar to Africa every month :). And there's the minor problem of the 4YO thinking that we're taking a trip to Africa soon to meet her…oh well, one problem at a time, lol. 
It's a start. It's one way we can help out, but obviously there's so much more we can do as a family. Right now, this clicked with the kids and it's something they can both understand. This little girl has become real to them and they refer to her by name. They wonder about her life and what kind of house she lives in, about if she has clean clothes and food to eat. The 4YO was whining about a pair of pants that she hated and didn't want to wear when we were going out for dinner one night. I left the room and told her she wasn't coming to the restaurant unless she wore the pants. Then I eavesdropped with my husband as the 8YO went in and told her she should wear them because "think of Justina, who has to wear mud pants." Okay, we probably should have corrected that, but it worked because then they started talking about her, the 4YO wore the pants and they stopped thinking about themselves.
What about you guys? Any family goals or projects you're working on? Any traditions or interesting ways you give back as a family?