Archives for November 2015
Thanks for playing along! Gaby-you're the winner! Please email me via the contact form for your prize!
xo
As a self-proclaimed holiday junkie, this is an extra-special year because I've had 2 holiday book releases, within one week of each other!
Let me introduce you to each of them…
I'm going to start with this guy-because his book releases TODAY! Who is this gorgeous guy with the adorable smirk? Ethan Dane. Does his name sound familiar?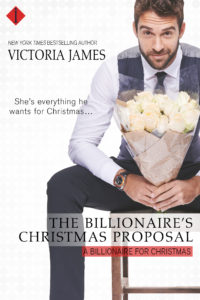 She's everything he wants for Christmas…
Social worker Allison Barrington's home went up in smoke, literally, a month before Christmas. Now the guardian of her teenage sister and a crazy pup, she shows up on the doorstep of the only man in the city she can trust. Resisting Ethan Dane had never been easy, but luckily, Allie isn't into cutthroat playboy businessmen. And Ethan is as driven as they come.
Ethan Dane has wanted Allie since the moment he laid eyes on her at their best friends' wedding. Having her in his home is the perfect chance to prove to her that their chemistry can't be denied, but when he finds out that the biggest business coup of his career means destroying the youth center where Allie works, Ethan is forced to decide what kind of man he wants to be…
Well…it should because he's this guy's best friend! Remember Jackson Pierce? He's got a new look-that baby, omg! Too cute. Jackson was my original favourite guy; grumpy, and without any Christmas spirit…but given the right woman, he figured out what was missing from his life…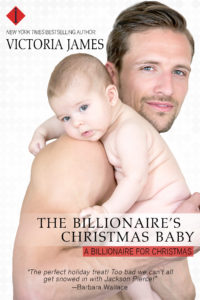 An Entangled Christmas Classic …
Jackson Pierce didn't make his fortune entertaining every half-cocked idea, especially one involving diaper changes. Not even the cute brunette who links him to the baby in her arms can crack his icy heart. A baby on the doorstep is the least of Hannah Woods's problems—she has to find the baby's uncle, or the child will end up in foster care. She sleuths her way to the reclusive CEO's doorstep only to find six feet of holiday sexy—and a door slammed in her face. But when Jackson comes around and urges they marry for little Emily's sake, Hannah finds herself falling for the jaded billionaire and wishing for a holiday miracle of their own…
So, who's this last guy, then? Well, this is Hayden. They all went to University together! Three clueless billionaires who had no idea what was in store for them, way back when…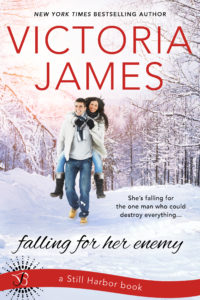 She's falling for the one man who could destroy everything…
Alex McAllister always dreamed of a life filled with the laughter and love of a family, but being abandoned at a young age left her wary of letting anyone in. Now that she's settled in Still Harbor, Alex struggles between keeping her distance and the magnetic pull of the handsome stranger who claims he's the biological father of her adopted daughter.
Hayden Brooks never wanted to be a father. Long hours spent building his family's real estate empire suits him just fine. But when he discovers an ex put the baby he unknowingly fathered up for adoption, his world crumbles. He tracks the child to Still Harbor with the intention of bringing her home-and comes face to face with his daughter's stunning adoptive mother.
The paternity test is in. And Hayden's about to make the most shocking decision of his life, just in time for Christmas…
Do you have a favourite? I thought I did, until I grouped them all together. Now I can't decide. There's also another one, who doesn't have his own book yet. But he's appeared in all 3 of these books…Tell me his name and I'll pick one random winner on Friday. The winner receives a $10 Amazon Giftcard!