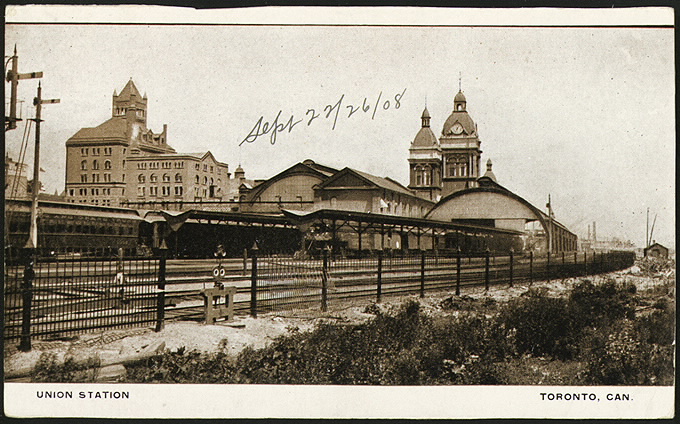 So we recently headed into downtown Toronto with the kids for a visit with my brother. He'd moved to a new condo and we were dying to see it. The three year old hadn't been on a train before, nor had she been to the city so this was an epic day for her. Along for the ride was my mom, the seven year old (who loved imparting many words of supposed wisdom of his many trips into the city), myself and the three year old.
Once settled on the train I noticed with dread that we were seated in the section with all the emergency exit signs and pulls. Of course the kids noticed all the brightly coloured, green pulls as well. What ensued was me making a threat that if they were pulled, a policeman would come and put them in jail (okay, I know that's harsh, but you should have seen the gleam in their eyes as they stared at those emergency handles). The rest of the train ride was uneventful, just the usual stuff like the 3YO refusing to hold my hand as we were disembarking, thus stopping the flow of traffic behind us which resulted in me just hauling her along crying.
We arrived at my brother's condo which is in the heart of a gorgeous part of the city and on the thirty-seventh floor. Spectacular view-the kids were very impressed. We then headed out for lunch. And oh, I miss this so much about the city…being able to step out your door and WALK everywhere. We had a lovely lunch and wandered around and then went back to his place for a while before heading back to the train and the burbs…
I used to go to school downtown Toronto for two years and I never realized just how much I miss it. DH (from Toronto originally) and I used to go all the time. Since kids…not often. I had a moment while we were walking outside that just gripped me out of nowhere and it was that yearning for my 'other' self. The one I rarely think about. The twenty-something, pre-kid-pre-mortgage-version of myself. And even though it was just last decade, it seems as far ago as my childhood. I love my life now, truly I know how blessed I am. But do you ever get those moments where you remember who you were before the truly adult version of yourself?