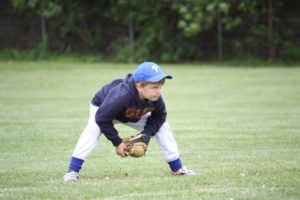 "Every strike brings me closer to the next home run." –Babe Ruth
This summer we enrolled DS, who is six,  in T-ball for the first time. Much to our surprise, our little guy really has a knack for this sport. He's really active and constantly on the move, so we weren't sure that a sport that didn't require running non-stop would appeal. But look at that concentration! That picture, btw, was taken by my BFF who attended one of his games and snapped the most beautiful shots. One of that main areas that DS needed to work on was batting. He was pretty discouraged in the beginning (I think like a lot of kids, he thought he was going to go from amateur to all-star after one game) and we really had to instil in him the discipline to practice regularly. It's hard to really make a child grasp that without hard work, and many failed attempts, great goals will not be achieved. Realizing your goals only comes after hours of practice, and lots of failed attempts.
Obviously, this is easy for me to relate to as a writer. How many times as an aspiring writer did I receive a rejection letter? And now that I have a few books under my belt, I still have my editor sending back proposals that need work. With each book that gets released, I still have the fear that it's going to completely bomb, or get horrible reviews. But I have to stay focused and keep going, and growing as a writer. I like to set new goals, and I'm the type of person who's never really satisfied with the status quo, because that kind of feels…ahem, boring. I like thinking of the next adventure…and how I'm going to achieve that home run…
What about you? Is there a particular goal or dream you're aspiring to? Something you've been putting off because it seems like too big of a time investment? Or have you already achieved your major goals for now?
This week, we've got T-ball practice and a game, and swimming lessons every day, play dates and hopefully a trip to one of our favourite farms. And um, in the midst of summer chaos, I need to finish off that book! Poor Evan Manning still needs to find his HEA…I'll be back tomorrow with a teaser from his story 🙂