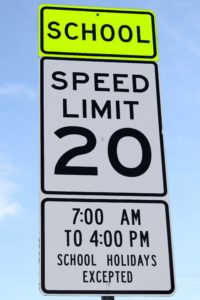 So that's not exactly how it went down, but you get the drift.
This is the first official full week of school for DS.  We are supposed to be dropping off our kids in the supervised (huge) playground every morning.  But for most of us this is a new concept.  At DS's last school, where he attended Preschool, JK, and SK, I was able to walk him inside and hand him over to his teacher.  So waving goodbye and letting him run off into a playground filled with students as old as thirteen is a little, um, scary 😉  Last week they allowed all of us overprotective parents to hover around the kids until the bell rang and their teachers came out to call them in.  I guess this week, we have to learn to let go.
As I was hovering about ten feet away from DS, as he maturely stood in his class line and engaged in a conversation with his new best friend, one of the cheerful playground supervisors came over, and gently told me this week, us parents have to stand at the edge of the playground.  Something about them becoming independent.  So as I rolled DD's stroller away, all the while waiting for DS to notice I was leaving, I couldn't help feeling anxious.  What if he didn't go into class?  What if he panicked that I was leaving?  Had he heard me say goodbye?  Did he remember I gave him a hug?  I joined the other parents who'd been relegated to the sidelines and waited for the bell to ring.  Sure enough DS remained in line, chatting non-stop with his friends, Spider Man backpack perfectly resting on his shoulders…their teacher walked out, called them in and he walked away…he didn't once look back for a reassuring smile or wave…and I guess, that's what I wanted.  Because if he had looked back with tear-filled eyes, I would have been heartbroken.  Instead, I know he's confident, he's happy, and he's adjusting better than I ever did in the first grade.
My little guy is growing up…:-)