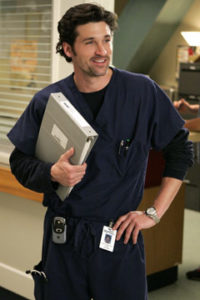 Isn't he everyone's favourite doctor? I guess it's no surprise that McDreamy was the inspiration behind Dr. Evan Manning. Evan started out being more elusive than Quinn and Jake. He's a lot more serious and straight-laced than his older brothers, much more guarded. He's completely career oriented and has put his career above all else, especially close relationships. It has been ingrained in him from their father that he needed to achieve something great. The life-altering secret he's about to discover brings out a much darker side to him that while justified, I had a difficult time writing. Quinn and Jake, while pushed to the brink by their heroines, never really lost their cool. Evan does. And perhaps that's the biggest surprise, because he's the calm, rational one. But he loses it, big time.
All right, enough rambling…here's a little teaser from The Doctor's Saving Grace (working title). Book three in the Red River Series. Evan and Grace are at a wedding (I'm not saying who's wedding 😉 ) and he's asking her to dance…
 "I'm not really much of a dancer, but for some reason, I feel compelled to ask you." His deep voice was deliciously gruff, his blue eyes shadowed under the twinkling lights. Grace's mouth went dry. Her heart kicked into a gear it had never operated at and she knew what her answer was going to be. 'No' wasn't a possibility. But if she said 'yes', that would mean she'd be dancing with the man she had been lying to. Dancing with the man that seemed very different than the one she remembered years ago.
"Just a dance," he murmured, reaching out for her. The instant his large, warm hand enveloped hers, she knew she wouldn't be able to refuse him…
Ach! I love Evan and Grace…and I hope you will too. Thank you for reading 🙂