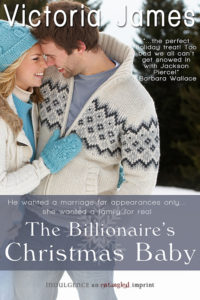 since my book, THE BILLIONAIRE'S CHRISTMAS BABY came out…
Before being published, I never really gave much thought to all the things that would happen 'after'.  Many aspects of my career have changed-and many have stayed the same.  It's been a huge learning curve-and I've learned quite a few lessons along the way.  I thought I'd share the 'biggest' things…
3) Promo:  I'm fortunate that with Entangled Publishing, I don't have to worry about setting up blog tours and such.  But let me tell you, the publicists that I was lucky enough to work with are super talented, hardworking women-which means lots and lots of blogs posts and promo on my end.  It all went by so fast that I can barely remember who, where, what.  Of course, my book was a holiday release, so juggling the extra demands of the holidays made it even trickier.  And the thing with the promo stuff is that it's all 'on top' of your other writing demands.  During promo of BILLIONAIRE, I also had revisions for my next release…oh and did I mention that plague we all caught over here?  OK, back to the topic at hand….
2) Reviews:  As publication date grew near, I began getting crazy nervous and insecure about reviews.  Like I had a crazy dream the night before my book release that I would wake up the next morning to 5, 1 STAR reviews.  I was having serious anxiety…but as the days went on-no actually not that fast-as the weeks went on, I learned to 'suck it up' and just go with it.  My book would not appeal to everyone, I had to accept that.  As a reader I have my favourite books, and I have read books that I just didn't connect with.  It's a little different from this side of things-because of course you want everyone to love the characters that you've created…but that doesn't always happen.  I am fortunate though, that BILLIONAIRE did receive some AWESOME reviews, even being named as one of the best books of 2012 for one reviewer.
And the biggest and BEST surprise in this journey…
3) Readers!  Well, this has been by far the best surprise-all the readers that have contacted me and signed up for my newsletter and taking the time to reach out.  I never dreamed I would receive emails from readers telling me how much they loved BILLIONAIRE, Hannah and Jackson.  Honestly, every time an email popped into my inbox from a reader it made my day.  I fell in love with Hannah and Jackson, and to know that other people have as well makes me so grateful.  Readers who asked when my next book would be out, or told me that they laughed and cried with my book, that they were moved, even that I just became one of their favourite authors?  Well, that just blew me away!  Thank you to everyone who connected with me and sent me an email-I will cherish your kind words always.
Being a published author was scarier than I ever thought…but also a hell of a lot more rewarding and thrilling…Thank you for sharing this ride with me!
Now…off to write!
No tags for this post.