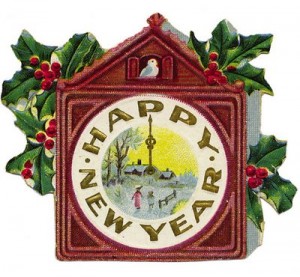 Happy New Year!
This year definitely started off a little differently than usual.  Since we have little ones at home, we never go out anymore.  DH and I usually celebrate New Year's Eve by watching a new movie, sharing some takeout from a favourite restaurant, drinking wine, making a 'goals' list, and then toasting the New Year with champagne.  This year?  We sat on the couch, barely made it through a movie, and instead of takeout on the couch, a box of Kleenex sat between us and instead of wine, we shared a bottle of cough syrup.  Champagne at midnight?  Well, we would have had to been awake, but since we passed out at 10:00pm, that didn't happen either!  Goals?  Stay alive.  You see, DS brought home the flu a few weeks ago, which then turned into bronchitis for us…we are finally feeling better after a few rough weeks.
What a way get a boost…I found out that my book, THE BILLIONAIRE'S CHRISTMAS BABY, made Stella's list of Best Books of 2012!!!!!!  This news made my day!  Stella is a book blogger and reviewer, and she posted the most beautiful review on her site, Ex Libris.  Her review actually brought tears to my eyes as I read it, because she truly understood my characters and writing.
What a wonderful start to the year!  I will be back to post more often.  Now, I have to dive back into the revisions I have due, for my book that's out this March!
No tags for this post.