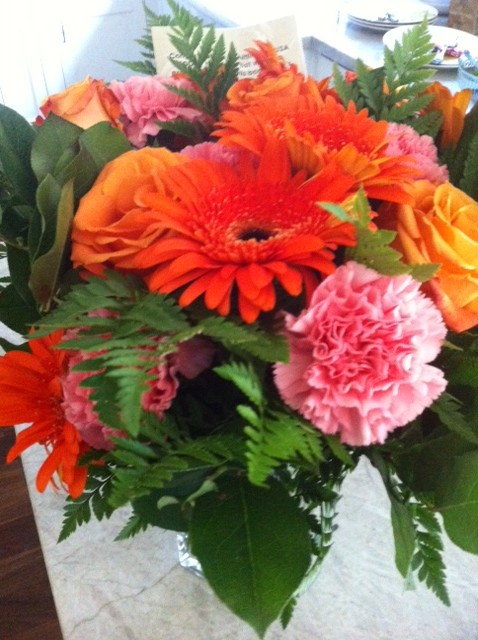 Yesterday's contest winner? MONIQUE. Monique, congrats! Just email me your mailing address (you can use the form on the contact page) and a signed copy of A RISK WORTH TAKING will be in the mail soon :).
Yesterday was a pretty cool day around here…first of all-you guys left me comments! And that was so awesome, because a part of me panicked and thought no one would :). I *may* have even sent a panicked email to my BFF saying that no one was going to comment and enter my contest…so THANKS guys for saving me from that embarrassment!!
Second cool thing that happened? Around five o'clock (also known as crazy o'clock around here), I was making dinner (trying to anyway) and the seven year old was teaching the three year old how to be a Jedi warrior…fast forward to lots of screaming, an eyeball being nearly poked out by a light saber, etc, etc, and then suddenly the 7YO yelling that he hears someone knocking at the door. By this point, dinner is burning and I'm wondering whether it's too early to pour myself a drink, so I say that whoever it was at the door, must have been scared off by all the crazy screaming. Sure enough, I see no shadow at the door and don't even bother opening it. Somehow we make it to bedtime and when there's nothing but silence in the house, I open the front door because I remembered we hadn't checked mail. What do I find on the doorstep?
That gorgeous bouquet of flowers from my publisher, Entangled. I stood there, reading the note and the moment was truly surreal. Seriously. I'm just so grateful I get to write the crazy stories that I daydream about and that I have a publisher who publishes them, an editor who pushes me and makes my stories better, and I have the most awesome readers ever! Thanks guys, you truly rock!!!!! You guys email me, leave me comments, write reviews-and you enter my contests!!! 🙂
Soooo without further blabbing…
Today's contest? I'm giving away a signed, PRINT copy of THE BEST MAN'S BABY. All you have to do is tell me what book this excerpt is from. I'll pick one random winner tomorrow who names the correct book…let's see how well you know your heroes ;-).
(P.S. Don't forget to check back everyday this week for a different contest. And I'm sending out my biggest newsletter ever this week, so be on the lookout for it in your inbox!).
"You want the bottle or the glass?" he asked, turning to look at her.

She swallowed hard. "The bottle. Definitely the bottle."

"Impressive." He smiled, an adorable smile that made the corners of his eyes crinkle and a dimple appear on one cheek.

It made her toes curl and sent ribbons of pleasure through her body.

He leaned back into the cushions, his smile falling slightly.

She looked at him, from the handsome face to the bare, perfectly sculpted torso to the narrow waist and long, lean legs. She wasn't going to lick her lips, like the man was a part of an all-you-can-eat dinner buffet, but then he leaned forward to pick up his glass from the coffee table and a ripple effect of muscles over his abs sent a ripple-effect through her body. Why, oh why, did Cori have a brother like this?

Her insides liquefied, and she grabbed the bottle, downing a large swig. She didn't even cough as the liquid burned a path down her throat.

"I hope I'm not going to have to pick you up off the floor," he said, again that smile still on his face. She'd never seen him smile so much. He must have downed a hell of a lot of whiskey while she was in the washroom.

"Relax, cowboy, I can handle myself." Then she cursed herself.

She was flirting.

Relax, cowboy?

It was like she was repeating lines

from a movie. And then he actually chuckled. More like a smooth, rolling laugh that reverberated through every inch of her body. She tucked her uninjured leg under her and smoothed the long shirt over herself carefully.

"Oh my God," he yelled, leaning over her.

She backed up into the cushions. "What?"

He was looking at her foot. "Your ankle is huge."

She wanted to die. "No, it's

not

. I don't have huge ankles."

"It's the size of a freaking cow hoof. Why didn't you tell me?"

His voice was raspy and tender at the same time. Before she could process the cow-hoof remark, he wrapped his strong hand around her injured ankle. She flinched and gasped out loud.

His head snapped up. "Why the hell didn't you tell me you were this hurt?"
So, do you know? What book is this from, tell me in the comments! Good luck!